Insulation & Waterproof Self-curing Protection Pad is an insulating waterproof packaging material, the main feature is excellent insulation and waterproof performance, can be used for insulation protection of 35kV and below cables, optical cables, overhead lines and bare metal wires At the same time, it can also be used in the waterproof protection of equipment such as outdoor base station connectors, shaped antennas, splitters, couplers, tower defense, GPS integrated cabinets and other equipment.
During the construction of this product, you only need to pinch the location to be treated with a waterproof sticker, and then the material itself will gradually solidify after contact with the air to form an insulating waterproof layer. The operation is simple, suitable for quick repair work, without heating or special tools. On-site operation can cut and plasticize the waterproof sticker according to the actual situation.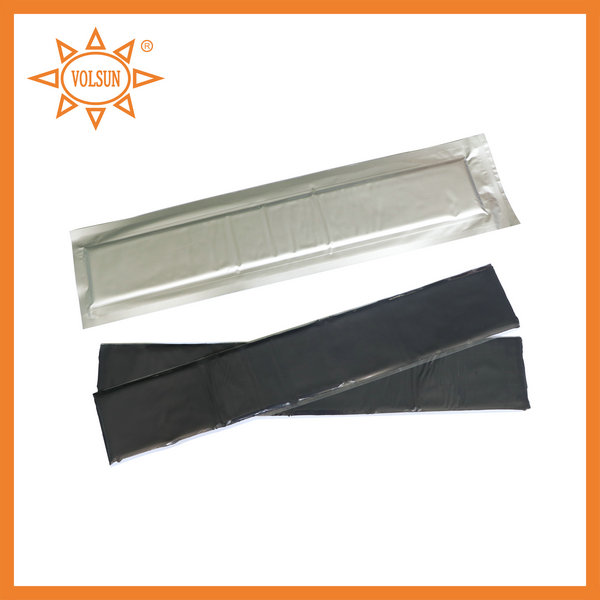 Feature
Standard color:Black
Encounter water vapor curing in the air
Simple installation, no special training and special tools required, working at height is easier
Low temperature does not change hard, high temperature does not flow glue, all-weather construction,
north and South general use
Outstanding UV aging resistance, reliable bonding
The material is exquisite and uniform, and the insulation performance is excellent
Material adhesion performance is good, high waterproof performance


Dimension
| | | | |
| --- | --- | --- | --- |
| | | | |
| Specification | Width(mm) | Thickness(mm) | Length(mm) |
| | | | |
| FST6525 | 900 | 1.8 | 600 |
Note: Special size and package are available on request.


Application
Used for sealing insulation protection of overhead wire clamps; local insulation reinforcement of overhead wires due to insufficient safety distance, etc.
Insulation protection for exposed metal positions of power conductors
Used for repairing local insulation of overhead conductors and insulation of cable terminal accessories
Used for insulation protection of bare metal parts in switchgear
It is used to block the entrance hole of electric cabinet type cable, especially for outdoor use
4G, 5G base station construction equipment waterproof, such as special-shaped antenna, splitter, tower defense, etc.
Other related to power and waterproof aspects, such as high-speed rail, ships and other fields
Welcome to contact us if any interest!